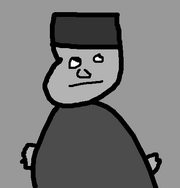 Billy Colbert is an American producer of The Rocky and Bullwinkle Show and other TV shows and short films. He was born on December 11, 1972 at his house location. He began producing films & TV shows at the age of 7 in 1979. By 1987, he continues producing more movies and TV shows for classic stuff. At age 27, he teams up with Mitchell Beausejour to produce more TV shows and theatrical movies. His first short film he produced was "All He Glitters" made in 2012. In 2013, Dylan Beausejour decided to co-produce the 1959 Russian short film "A Christmas Tree" along with Colbert. But Dylan's films are already in production and development and so, he reverts back to his own producing styles. In other cases, Matt Crowley, the creator of the Jimmy Gets Grounded series, teams up with Colbert instead, because he loves making a producing style for Mr. Crowley. Today, all of Colbert's works have became the highest-rating projects in history. During his absence, The Mitchell Beausejour Company reused Mr. Colbert's credit. In 2019, he returned to Mitchy B Studios and spent the rest of his life as a producer. At the Mitchy B studio, Colbert decided to produce the animated My Little Pony: Equestria Girls: Rainbow Rocks short films until Fall 2014. Other producers especially Colbert, have their producer fame to make films.
Idea of the name
Edit
The name "Billy Colbert" was never used. However on December 5, 2013, Mitchell Beausejour decided to name the producer "Billy Colbert" while in production of "A Christmas Tree" made in 1959. The producer was fictional, but can be used in other TV shows such as Family Guy and American Dad!, both created by Seth MacFarlane.
According to Mitchell Beausejour, the producer's name was first used on December 5, 2013. Though, Colbert produces the Bullwinkle syndicated package in 2005 all the way to 2013. It can also be viewed after the movie plans are complete.