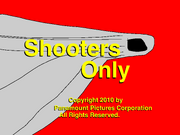 Shooters Only
is a cartoon released by Panamount Pictures on October 7, 2010 under its
Colortoons
series of animated shorts. It is the second cartoon to feature Slippy V and Garbo.
Garbo was shown trying to shoot Slippy V. Slippy V promised her to tell about the 2 Link CDi videos and several others from Mitchell Beausejour's 2nd account. He thinks he had a metal plate on his head. The cartoon ends with the text reading: "Honey? Are you okay? I.... I can't feel my legs. Is... is it because I shot you 50 times in the metal plate in your head? No. Nope. I think it was some brownies. Oh!".
Availability
Edit
This cartoon can be seen on several public domain VHS tapes and DVDs.